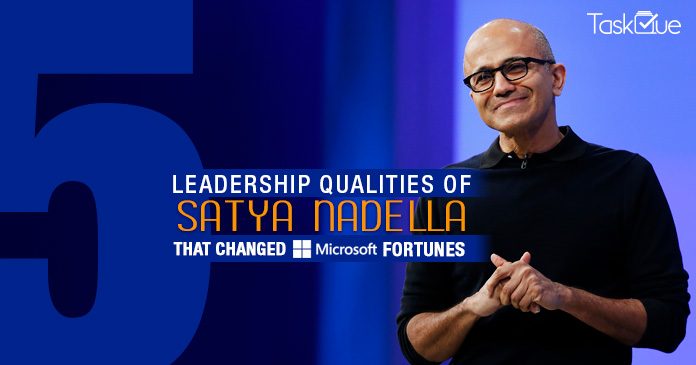 "Believe me, my journey has not been a simple journey of progress. There have been many ups and downs, and it is the choices that I made at each of those times that have helped shape what I have achieved." – Satya Nadella – Microsoft CEO
The above quote from Mr. Nadella is a clear proof that how he has earned his place as the top brass at Microsoft and his success is not a fluke.
It is really hard to make a name for yourself as an outsider in the US. Vikram Pundit was among the few people of Indian origin to make it big; first as the COO and then MD of worldwide institutional securities division of Morgan Stanley and then later CEO of Citigroup paving way for people like Sundar Pichai (Google CEO) and Shantanu Narayen (Adobe Systems CEO)
"Hit Refresh" is Satya Nadella's new book which gives an account of his exceptional journey so far, Microsoft's transformation since his takeover and what's in store for the company in the coming years.
The book also enlightens us about how a boy from Hyderabad, India has made it big at one of the biggest technology companies in the world. Following are the 5 aspects that made him a great leader and an extraordinary person too.
---
Related Read: Productivity Hacks: What makes Jeff Bezos & Mark Zuckerberg the Ultimate Internet Warriors?
---
An Avid Reader

One of the famous quotes of Harry S. Truman, former US president is, "Not all readers are leaders but all leaders are readers." One of the greatest qualities of a leader is his habit of learning. And a person learns either from his experiences or through others. Reading books can make you a better leader as Nadella's huge success as a visionary leader is a prime example.
Satya Nadella is an avid reader and his office looks like a small bookshop consisting of dozens of books.
In his own words, "I read a few pages here and a few pages there. There are a few books, of course, that you read end-to-end. But without books, I can't live." Just after becoming the CEO of Microsoft, Nadella asked company's top executives to read Marshall Rosenberg's book Nonviolent Communication that was based on emphatic collaboration.
Look Beyond the Horizon

Satya Nadella was the head of Microsoft's Cloud and Enterprise Group. He had a vision and belief that cloud computing was going to be a big thing in the future. That's why Microsoft invested billions in setting up data centers around the world to support its cloud-ready products.
Another great step was transforming Microsoft's original software business from permanent licenses to, where revenue is generated just once, to subscriptions, where revenue is recurring.
While Microsoft's game console X-Box was a big thing before Nadella came onboard, he made sure that it continues to rival Nintendo and Sony PlayStation and remained a competitor rather than bowing down to those giants in the business.
---
Related Read: Leadership Qualities of Barack Obama
---
Making the Right Moves at the Right Time
Microsoft's LinkedIn acquisition is the largest in Microsoft's history and a great buy so the least. Industry pundits termed it as a masterstroke from Nadella as LinkedIn is now the world's largest professional networking service.
Many other companies like Google were also thinking about making the acquisition or merger but Microsoft clinched the deal in front of their eyes.
Microsoft benefited greatly from the merger as its shares rose in the start of 2017 and showed considerable gains in cloud computing and other areas of focus too as it absorbed the LinkedIn once the acquisition was finalized on December 8, 2016.
With more than 400 million LinkedIn subscribers, Microsoft got a treasure trove of data that they can use for a variety of purpose.  
Make Every Second Count
Nadella is deeply protective of his time and as he knows the value of it very well. The 30 minutes he spends on a treadmill is the only time he is alone but he uses it too productively thinking about what to do next.
Rest of the day he is all busy with all sorts of engagement. It can include meeting with some government official, preparing a keynote speech, at an educational event with children or meeting with Microsoft's executives at the Redmond, WA headquarters of Microsoft.
Controlling a company that has a presence in 192 countries around the world is no mean achievement. He makes long trips to far-reaching destinations just to assess what the requirements of his customers as he terms very important.
His visit to a solar-powered internet Café in Kenya was a testament to this fact as went there to understand the how his customers use tech so he can serve them better in the future. He termed that journey worth visiting and not a waste of time.
---
Related Read: 8 Lessons Entrepreneurs can Learn from Elon Musk
---
Nurturing a Strong Conpany Culture 
In his book, Hit Refresh, Nadella has dedicated a complete chapter about the culture he inherited from Mr. Steve Ballmer, the person he replaced as the CEO of Microsoft in February 2014 and mold it according to his preferences. He changed the rigid culture to a growth mindset in three distinct ways.
He made sure there is a curiosity factor among all the employees to meet customer's demands. Secondly, Nadella infused a culture of seeking diversity and inclusion so that employees continue to improve and become open to learning about own biases and changing their behaviors.
The third point is about innovation and healthy competition among the employees. Nadella has made sure that by incorporating these 3 qualities in Microsoft's employees, he has set up a culture that will grow on them.
Another key is individual empowerment that can wonders for a company and one can already sense that Microsoft is heading in the right direction.
Final Word
In his 3 years at Microsoft, Nadella has transformed an ailing company into world's 3rd most valuable brand. The company's share price is now at an all-time high of 74.41 dollars, with a market capitalization of over 573 billion dollars, as of September 22, 2017. Microsoft was virtually down and out after the market turmoil of 2007-8 but Nadella's vision and leadership transformed it back into the technology giant it was since it was founded.
Microsoft's future is looking really bright. And while there can be many justifications to its current position in the market, no one can doubt the contribution of Satya Nadella in this regard. This blog is just a glimpse of Nadella's personality and his leadership qualities.
If you want to add something to this blog or want to discuss any aspect of it with me, please feel free to give your valuable feedback in the comments section below.